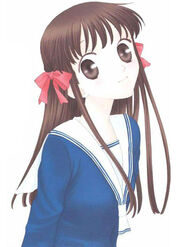 The Strangest Day
is the first episode of
Fruits Basket
.
Appearances
Edit The episode starts off with showing Tohru coming out from her tent. She was walking to school and notices a house. She goes to check it out and sees zodiac ornaments on the porch. Shigure makes his first appearance and talks to Tohru about the ornaments. Yuki appears and is Shigure's cousin. Yuki and Tohru walk to school. Saki and Arisa are introduced. After school, Tohru goes to work then comes back home to her tent. Shigure and Yuki find her. They bring her to their house. Then a landslide happened by Tohru's tent. Tohru gets invited by Shigure and Yuki to live with them. Then she meets a hot-headed, orange-hair boy, Kyo, who is Yuki and Shigure's cousin.
Ad blocker interference detected!
Wikia is a free-to-use site that makes money from advertising. We have a modified experience for viewers using ad blockers

Wikia is not accessible if you've made further modifications. Remove the custom ad blocker rule(s) and the page will load as expected.