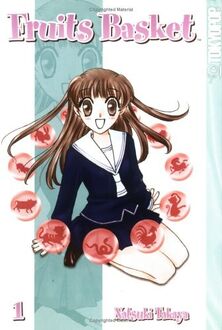 Fruits Basket (フルーツバスケット, sometimes abbreviated Furuba (フルバ)) is a Japanese manga series by Natsuki Takaya. It was serialized in the semi-monthly Japanese magazine Hana to Yume, published by Hakusensha, from 1999 to 2006. It received a 26-episode anime adaption, and Takaya later wrote a sequel titled Fruits Basket Another.
Plot
Although the anime is based on the first 8 volumes (the anime ends at halfway through book 8), there are some differences in the stories, such as Akito's life being short due to the curse and his still being male.
Each volume cover features main characters from the series. From volume 2 to 14, the covers are the characters who are cursed and they are used as the cover character in the order of which Tohru has met them. Volumes 15 and on feature Akito Sohma, Kazuma Sohma, Tohru's friends (Saki Hanajima and Arisa Uotani), Yuki's two new friends from student council (Kakeru Manabe and Machi Kuragi), Ren Sohma, and Tohru's parents (Katsuya Honda and Kyoko Honda; not in order).
List of Volumes
Main Volumes
Collector's Edition
In 2015, an omnibus collector's edition of the manga was released, with new covers drawn by Takaya. The English publication was handled by Yen Press, who acquired the license after Tokyopop's North American publications closed down.
No.
Content
Cover Characters
Release Date
ISBN
1
Volume 1
Volume 2
Tohru Honda (front)
Kyoko Honda (back)
September 4, 2015 (JP)
June 28, 2016 (EN)
ISBN 978-4592218111 (JP)
ISBN 978-0316360166 (US)
2
Volume 3
Volume 4
Yuki Sohma (front)
Kyo Sohma (back)
September 4, 2015 (JP)
June 28, 2016 (EN)
ISBN 978-4592218128 (JP)
ISBN 978-0316360180 (EN)
3
Volume 5
Volume 6
Shigure Sohma (front)
Kagura Sohma (back)
October 20, 2015 (JP)
July 26, 2016 (EN)
ISBN 978-4592218135 (JP)
ISBN 978-0316360647 (EN)
4
Volume 7
Volume 8
Momiji Sohma (front)
Hatori Sohma (back)
November 20, 2015 (JP)
August 30, 2018 (EN)
ISBN 978-4592218142 (JP)
ISBN 978-0316360654 (EN)
5
Volume 9
Volume 10
Hatsuharu Sohma (front)
Ayame Sohma (back)
December 12, 2015 (JP)
September 27, 2016 (EN)
ISBN 978-4592218159 (JP)
ISBN 978-0316360661 (EN)
6
Volume 11
Volume 12
Kisa Sohma (front)
Hiro Sohma (back)
January 20, 2016 (JP)
October 25, 2016 (EN)
ISBN 978-4592218166 (JP)
ISBN 978-0316360715 (EN)
7
Volume 13
Volume 14
Ritsu Sohma (front)
Isuzu Sohma (back)
February 19, 2016 (JP)
November 22, 2016 (EN)
ISBN 978-4592218173 (JP)
ISBN 978-0316360722 (EN)
8
Volume 15
Volume 16
Kureno Sohma (front)
Akito Sohma (back)
March 18, 2016 (JP)
December 20, 2016 (EN)
ISBN 978-4592218180 (JP)
ISBN 978-0316360739 (EN)
9
Volume 17
Volume 18
Arisa Uotani (front)
Saki Hanajima (back)
April 20, 2016 (JP)
January 24, 2017 (EN)
ISBN 978-4592218197 (JP)
ISBN 978-0316501620 (EN)
10
Volume 19
Volume 20
Kakeru Manabe (front)
Machi Kuragi (back)
May 20, 2016 (JP)
February 21, 2017 (EN)
ISBN 978-4592218203 (JP)
ISBN 978-0316501644 (EN)
11
Volume 21
Volume 22
Ren Sohma (front)
Kazuma Sohma (back)
June 20, 2016 (JP)
March 21, 2017 (EN)
ISBN 978-4592218210 (JP)
ISBN 978-0316501682 (EN)
12
Volume 23
Extra Content
Katsuya Honda (front)
Young Kyoko Honda (back)
July 20, 2016 (JP)
April 18, 2017 (EN)
ISBN 978-4592218227 (JP)
ISBN 978-0316501767 (EN)